OPPORTUNITY TOP
Opportunity Top dental chairs combine all the ergonomic features and advanced functionalities to ensure fluidity of movement, precision of operations, comfort, range and design of the arms and supplied tools to maintain a correct posture of both the doctor and the patient.
The body of the dental unit is directly connected with the chair and can rotate to increase available space for assistance staff. The ceramic cuspidor bowl can also rotate to facilitate rinsing and be removed to ensure maximum hygiene.
The materials used are all "noble materials" such as steel and aluminum, allowing lightness, precision of movements and clean lines.
Opportunity top is available in Kuwait, Lebanon and UAE.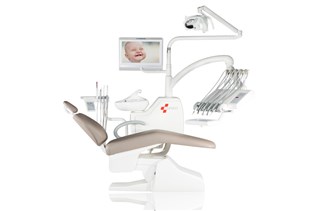 OPPORTUNITY LITE
Opportunity Lite dental unit combines the highest standards with a modern minimalist design. The body of the unit linked to the chair allows fluidity of movements during clinical treatments, optimization of space and maximum performance.
The mechanics of the instruments ensure increased maneuverability and total comfort by having zero tension exerted on the wrist of the doctor. Moreover, having the instruments out of sight of the patient helps to create a more relaxed atmosphere.
Opportunity lite is available in Kuwait, Lebanon and UAE.
OPPORTUNITY COMPACT
Opportunity Compact is a dental unit that is designed to ensure the productivity of dental professionals as it is built with innovated components, that are individually assembled and tested with great attention to detail.
It is equipped with an assistant table that is compact, easy to handle, and can accommodate up to 5 instruments. It can also include an optional console, allowing the dentist to control all functions of the unit, and a practical and spacious door tray. Opportunity compact also offers 3 hygiene systems to choose from.
Opportunity compact is available in Kuwait, Lebanon and UAE.