FOTONASMOOTH™ SP
FotonaSmooth™ lasers are star performers in the field of gynecology thanks to their proven ability to perform an impressive range of treatments with superior clinical results, greater patient comfort, faster healing and reduced downtime.
Fotona's lasers have gold standards Er:Yag and Nd:YAG laser wavelengths. By combining two gold-standard laser wavelengths in a single system, FotonaSmooth SP functions as highly versatile, multi-purpose treatment platform that can perform an exceptionally wide range of treatment possibilities, including completely new approaches for effectively healing common gynecological problems. Each system features an intuitive, easy-to-use-interface with customizable memory presets to help you perform your work faster and more effectively.
The FotonaSmooth SP's Nd:YAG laser provides the power and performance needed to handle more advanced gynecological applications, such as laparotomy, laparoscopic and hysteroscopic procedures, as well as for aesthetic gynecological procedures. Compared to conventional technologies, Fotona's proprietary VSP Nd:YAG pulses create virtually instantaneous temperature increases that are limited to the targeted structures only.
It can be optionally equipped with one of the most powerful QCW (Quasi Continuous Wave) infrared surgical lasers on the market.
Key Treatments:
IntimaLase
Vaginal Canal Tightening
IncontiLase
Stress Urinary Incontinence Treatment
Courtesy of Fotona D.D.
Contact your local Medicals International Territory Manager for more information, or visit http://www.fotona.com/en/products/1187/fotonasmooth-sp/
Only available in Lebanon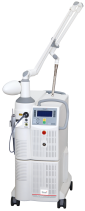 FOTONASMOOTH™ XS
The FotonaSmooth™ XS laser system is a popular choice for gynecologists thanks to its proven ability to perform an impressive range of non-contact, non-invasive procedures with greater patient comfort, reduced downtime and quicker healing.
Fotona's Er:YAG laser technology is ideal for the treatment of lesions of the uterine neck and vagina, as well as HPV lesions, pigmentations and neoplasias. Because of its unique disinfecting capability, it even promotes faster healing of infected tissue.
Fotona's patented VSP (Variable Square Pulse) technology enables the Er:YAG laser to be accurately tuned from warm to "cold" ablation as well as non-ablative thermal ratios. This allows for a wide range of non-ablative treatment possibilities, including Fotona's revolutionary IntimaLase and Incontilase treatments based on proprietary SMOOTH mode settings.
Key treatments:
Courtesy of Fotona D.D.
Contact your local Medicals International Territory Manager for more information, or visit http://www.fotona.com/en/products/1079/fotonasmooth-xs/
Only available in Lebanon