WASHERS/DISINFECTORS
HYDRIM C6 W G4
Countertop or under the counter, steri-center installation.
G4 web portal includes data storage, service logs and remote access capabilities
Validated cycles to ensure repeatable washing performance
Improved serviceability, reliability and minimal maintenance requirements
Vivid color touch screen
Robust stainless steel exterior
USB port for data storage
Active hot air drying
HANDPIECE MAINTENANCE
STATMATIC
STATMATIC cleans and lubricates straight to the bottom line:
Automatically cleans and maintains up to three handpieces. Cycle time is only 15 seconds per handpiece
Unique chuck care system
Chemical/physical cleaning with foaming care agent
Optimal lubricant coverage throughout the handpiece
Compressed-air connection: excess lubricant purging
Automated reproducable quality of care
Easy spray can insertion
Can coupling with unique safety valve
Absorption pad for excess lubricant
The way STATMATIC works is straight forward: just flip down the door, snap one, two or three handpieces onto the adapters, close the door, press the start button. Done.
STATMATIC offers great flexibility. It registers the number of handpieces connected to the couplings, whether it is one, two or three. The STATMATIC comes with 2 E-type and 1 multiflex coupling. Contact your dental dealer for other coupling options.
Conclusion
Improved working life of your handpieces through efficient cleaning and lubrication – saving you time and money.
WATER DISTILLERS
AQUASTAT
Technology that'll make a splash in your practice!
Eliminates water contaminants
Vaporizes tap water to kill and remove 99% of most contaminants
Protects your equipment
AQUASTAT produces the pure water necessary for autoclave sterilization in your office
The fast distilling and energy efficient AQUASTAT processes 3.78 litres (1 gallon) of distilled water in just 4.25 hours, with very low power consumption
Simply plug it in, fill with tap water and switch on.
SciCan's AQUASTAT distiller allows you to forget about buying expensive bottled water or risking damage to your equipment from poor quality distilled water. A patented energy saving design with unique distillation technology kills harmful bacteria and viruses by vaporizing water and then reconstituting it through condensation. The result is water that's 99% free of most contaminants.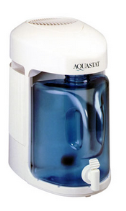 CLEANERS/DISINFECTANTS
OPTIM 33 TB
A powerful one-step cleaner and disinfector.
Features:
Superior cleaning performance
Economical
Safe
Fast
Broad spectrum sanitizing
Available in liquid or wipes format
It was never stable enough to be practical as the foundation for a system of commercial disinfectant cleaners until accelerated hydrogen peroxide (AHP) was developed. AHP is the active ingredient in OPTIM 33 TB, which is made of a blend of commonly used, safe ingredients. When these ingredients are combined with low levels of hydrogen peroxide, it produces exceptional potency as a germicide and performance as a cleaner.
How effective is OPTIM 33 TB?

Norwalk-like viruses (Feline Calicivirus), the Polio virus and even the common cold virus (Rhinovirus) are resistant to many surface disinfectants. But OPTIM 33 TB Surface Cleaner & Intermediate Level Disinfectant kills them all in one minute.
It also has a one minute claim against: Mycobacterium terrae, Human Coronavirus (SARS), HIV-1, Hepatitis B, Hepatitis C, Avian Influenza (Bird Flu), Salmonella, E.Coli, Pseudomonas, Staphylococcus aureus MRSA and other viruses & bacteria*, and can achieve a 99.999% broad-spectrum kill of vegetative bacteria in 30 seconds!
OPTIM CS
Chemical disinfection for critical instruments and devices that cannot be autoclaved.
Features:
Economical
Safe for staff and the environment
No fume hoods required as with Glutaraldehyde
Fast acting
For chemical sterilization and high level disinfection
OPTIM CS is a rapid and ready-to-use solution designed for chemical sterilization and high level disinfection of critical and semi-critical instruments, and devices that cannot be autoclaved.
- Why use OPTIM CS?
The fastest product on the dental market for chemical sterilization, OPTIM CS completes effective sterilization in 20 minutes. It's a ready-to-use solution where the active ingredient is 7% hydrogen peroxide, so it's safe for staff and for the environment when used in accordance with the instructions on the label.
Contains corrosion inhibitors
Effective in 5% soil load with cleaning efficacy
No glutaraldehydes, no alcohol, no peracetic acid
No VOCs (volatile organic compounds)
OPTIM CS is compatible with acrylic, silicone rubber, low and high density plastics, stainless steel and mild steel instruments. And its long shelf life means you can use the amount you want when you need it – for up to 12 months. (Indicator test strips are also available.)
OPTIM CS is biodegradable and decomposes to water and oxygen within moments of being properly discharged into a drainage system. Its AHP Technology (accelerated hydrogen peroxide) is also the first and only disinfectant technology approved and certified by EcoLogo – Environmental Choice Program.