GLUMA DESENSITIZER 1 X 5 ML REGIO
For over 20 years, one drop of GLUMA Desensitizer has been sufficient to reduce and prevent hypersensitivity. The results appear quickly and effectively, without mixing, curing, or multiple applications. Your patients feel immediate relief. Every good restoration starts with the GLUMA Desensitizer. Its efficacy has been proven in over 50 million restorations. It can be used with all common adhesives and restoration materials and in every treatment situation. GLUMA Desensitizer neither needs to be stirred or light cured. This simplifies the application and saves time.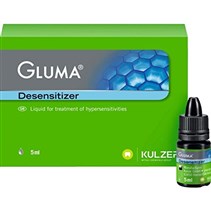 GLUMA 2 BOND
Based on our long-term bonding expertise, we developed the Etch & Rinse adhesive system GLUMA 2Bond. It meets your everyday requirements for uncomplicated and state-of-the-art bonding. GLUMA 2Bond produces excellent adhesion to the enamel and the dentine, as well as optimal marginal sealing. Furthermore, it provides a desensitizing effect for sensitive patients or desensitization of hypersensitive areas.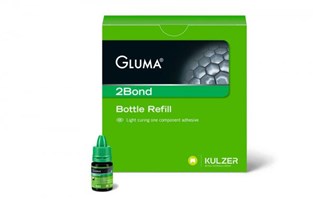 GLUMA CERAMIC PRIMER 1X4ML
A light-curing, self-etching all-in-one adhesive system for use in adhesive restorative dentistry. Used for adhesive bonding or repair of silicate ceramics prior to the application of GLUMA Bond Universal and for adhesive bonding or repair of glass ceramics with GLUMA Bond Universal.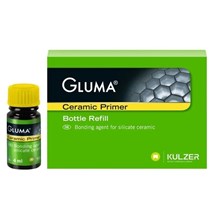 CHARISMA DIAMOND SYR ROW REFILL
The nano-hybrid composite Charisma Diamond expands the boundaries of aesthetics, quality and performance. It provides all the exceptional properties you expect from such an aesthetic state-of-the-art composite.
CHARISMA DIAMOND ONE KIT
Charisma Diamond ONE is a truly universal shade solution for the majority of everyday cases with enhanced mechanical properties. With incredible shade matching properties, ONE shade blends seamlessly into the surrounding dentition, independent of tooth shade, enabling restorations to simply disappear.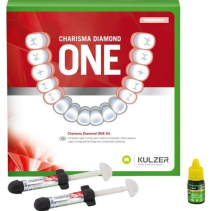 CHARISMA SMART
Charisma Smart provides the smart way towards natural everyday restorations. It is an uncomplicated universal composite for everyday restorations with great value. We developed this light-curing, radiopaque-filling material to cover your requirements for composite workability.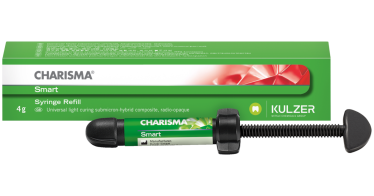 CHARISMA FLOW
Charisma flow is the ideal supplement to our microhybrid composite Charisma Classic. Its low viscosity and good thixotropy makes it the ideal choice for many indications like cavity lining, fissure sealing and minimal invasive fillings.
-The Charisma Flow Baseliner is a white and opaque shade that can be applied on the cavity floor to mark the transition to the natural hard tooth tissue. This means that unnecessary drilling away of healthy hard tooth tissue when removing an insufficient filling can be avoided.

ICEM SELF ADHESIVE SYRINGE REFILL
iCEM Self Adhesive is a dual-curing all-in-one luting composite with dependable adhesive strength. It is applied easily, quickly and in a convenient way and reduces the risk of post-operative sensitivity. This means: etching, priming, bonding, desensitising and cementing of indirect restorations in one step.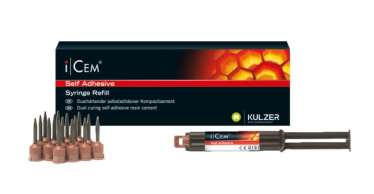 UNIVERSAL SILICONE ADHESIVE 10 ML
Universal Silicone Adhesive for all Kulzer silicone impression materials.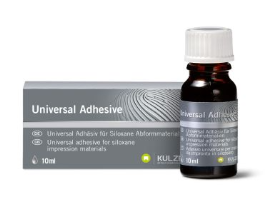 VENUS BULK FILL PLT REFILL
Venus Bulk Fill is the low stress base liner to bulk solution for efficient esthetic posterior restorations. It provides dentists with a faster, easier technique than incremental layering – which results in reduced chair time for a more efficient and cost-effective restoration.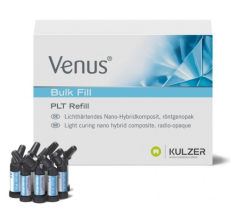 PREVISION TEMP
PreVISION Temp is a self-curing two-component temporary crown and bridge material, provided in the practical 10:1 automix cartridge. Its good mechanical properties allow for safe and aesthetically convincing results for a comfortable wearing time. So you and your patient can envision a representation of how the final restoration will look and feel.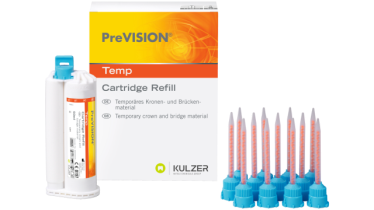 VARIOTIME MONOPHASE DYNAMIX REFIL 2X50 ML
More than 25 years of Kulzer experience in VPS precision imprint materials are combined with remarkable performance and features in Variotime.
It has a flexible time concept that gives you more flexibility when setting the time. We want you to experience the wonderful feeling of reliability and freedom.
Think vario – Freedom can be this simple:
-Straightforward, adaptable handling: You only need one material for a variety of applications, including single crowns and multi-unit prosthetic restorations. 
-Automatic mixing: You get high-speed mixing and exact dispensing with the Dynamix speed system, even for putty viscosities. 
- Convenient, time-saving working: More flexibility is given when determining the time. With Variotime, your intraoral setting time is always a quick 2:30 minutes, and your working time fluctuates between 1:00 and 2:30 minutes.
Variotime quickly sets after insertion into the mouth and regulates the kinetics of polymerization by mouth temperature. 
Variotime dyNnamix cartridge refills: Putty Refill, Heavy Tray Refill, Monophase Refill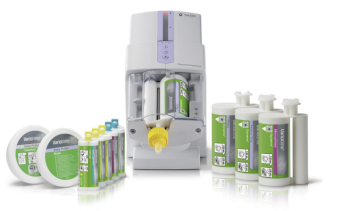 MEMOSIL 2 2 X 50 ML
MEMOSIL 2 is a transparent A-silicone for special indications. Its transparency allows optical control when positioning aids (e.g. X-ray pellets). Light-curing is possible for filling and fixative materials through placeholders with MEMOSIL 2.
The material is best suited for use as an occlusal stamp for light-curing posterior composites, an anterior stamp for provisionals, fillings and veneers, a fixation material for x-ray measuring spheres when planning implants and a transfer matrix for bracket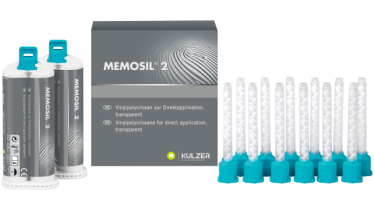 ALGINOPLAST SH 40 X 500 G REGIONAL
Alginoplast shows a high level of accuracy, elasticity and tensile strength, and is also extremely well compatible with plaster. The dust free and clean mixing is easy and comfortable.
We use high quality seaweed from preferred cultivation areas as a basis for our alginate impression material. These alginates last longer without preservatives. Since they do not contain any chemical disinfectants, they are skin and gingiva friendly. Their mild peppermint taste also makes the impression more pleasant for the patient. Alginoplast is best suited for documentation, analysis, planning, opposing bite and working model.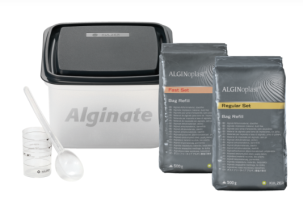 HERAVEST PRESS 5.6 KG X 100 G
Benefits:
■ Excellent fit
■ High strength
■ Easily devested
HERAVEST SPEED 5.6 KG X 160 G
Benefits:
■ Extra-smooth surfaces
■ Highest precision
■ Precise fit casts
■ Suggested for the transfer technique 900 700°C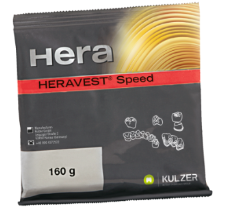 MOLDAVEST FUTURA 5.6 KG X 160 G
Benefit:
■ Outstanding flowability
■ Excellent fit, even in difficult situations
■ Extra-smooth surfaces (resistant to cracking)
■ Laboratory tested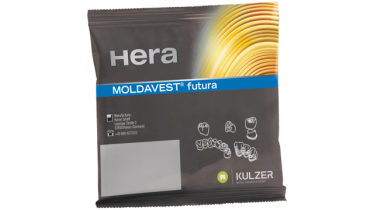 MOLDAVEST MASTER RUN, 20,25 KG, À 450 G
Phosphate bonded, graphite free precision investment material for the entire cast partial denture in cobaltchromium (CoCr) and precious metal. Suitable only for silicone duplication. For speed preheating.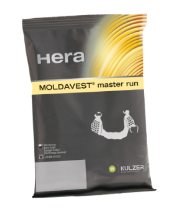 INVESTMENT BS LIQUID 1 900ML
Kulzer liquids are designed for investment material powders and tailored for use in multiple investment materials.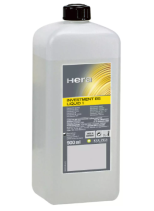 MOLDA ARTI SUPER WHITE 25 KG
Benefits:
■ Super white shade
■ Excellent mixing behavior
■ Soft and creamy texture
■ Due to it`s stability directly fix the models
■ Dimensional stability due to extremely low expansion
■ Good adhesion to model and base plasters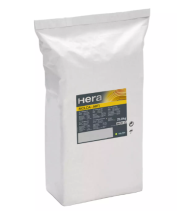 HERAENIUM NA / 1 KGS
Nickel chromium base bonding alloy for use with classic porcelains, in particular HeraCeram, and composites (Signum) acc. to EN ISO 9693-1 and 22674
Heraenium NA is a reliable nickelchromium based non precious metal alloy, primarily indicated for fabricating frameworks for metal-ceramics and specifically for use with classic porcelains such as HeraCeram. The framework can also be veneered with composites. Heraenium NA is free of beryllium and lead, and is easily trimmed due to its minimal hardness. Especially when veneered with HeraCeram porcelain, aesthetic, high grade and dependable prosthetic restorations can be fabricated. Kulzer Heravest Onyx and Moldavest exact investments are recommended for casting this alloy as they produce precisely fitting, smooth, fissure free castings.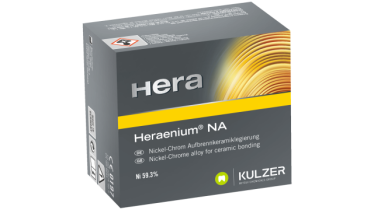 MOLDANO, 25 KG
Benefits:
■ Perfect handling consistency
■ High compatibility with alginate impressions
■ Good stackability
■ Suitable for pouring up to 4 dental arches
■ Very good sculpting characteristics
■ The classic among Type 3 dental stones
■ Available in 2 colors: White and Yellow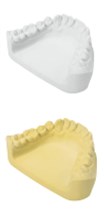 MOLDASTONE CN 18 KG
High strength dental stone.
Benfits:
■ Thixotropic
■ Good flowability
■ Stackable
■ Suitable for pouring up to 3 dental arches
■ Large selection of shades
■ Available in 3 colors: Light Brown, champagne, Mint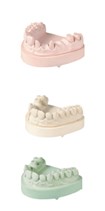 OCTA FLOW AZURE BLUE 20 KG
Special plaster for the serial base setting of dental arches fabricated along with base formers such as the Kulzer Splitcast system. The mixed plaster is very flowable and is remarkable for its very low setting expansion.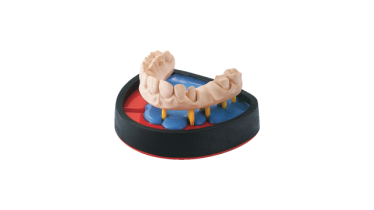 PALA LAB PUTTY 90, 3KG (2X1.5KG)
Pala Lab Putty, was especially designed for accurate and fast working in dental laboratories. The easy 1:1 mixing garantuees high fitting accuracy and exact reporduction of details. Pala Lab Putty can be used in a variety of applications, especially when working with PalaVeneers.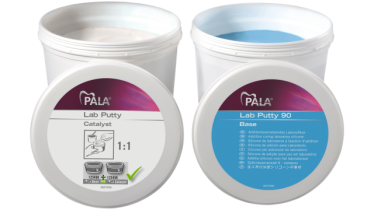 HERACERAM
HeraCeram is a high fusing veneering ceramic for bonding alloys with a CTE ranging from 13.5–14.9 µm/mK. As a result of the low firing temperature of max. 880°C, all alloys can be reliably processed in this CTE range.
For an aesthetic appearance, HeraCeram offers opaquer, dentine and incisal materials that are precisely adapted to one another, as well as a comprehensive range of customised materials that ensure reliable shade results even if thin layers are used. The stability of these materials combined with a low level of shrinkage during firing ensures that the restoration does not lose its shape. Thanks to its dense, extremely smooth surface, HeraCeram protects the antagonist, ensuring strong resistance to plaque and a gingiva-friendly environment.
Available:
Heraceram veneering ceramics (Heraceram), Correction material, 20 g - Correction COR
Heraceram veneering ceramics (Heraceram), Dentine, 20 g - DA1/ DA2 /DA3 / DB1/ DB2 / DB3
Heraceram veneering ceramics (Heraceram), Incisal, 20 g - S1 / S2
Heraceram veneering ceramics (Heraceram), Opal incisal, 20 g - OS1 / OS2
Heraceram veneering ceramics (Heraceram), Enhancer, 20 g  - EH Neutral
Heraceram veneering ceramics (Heraceram), Opal transpa, 20 g - OT 1 / OT 2 / OT 5 /OT 10 / OT ICE
Heraceram veneering ceramics (Heraceram), Transparency, 20 g - TC (Clear) / White
Heraceram veneering ceramics (Heraceram), Enhancer, 20 g - EHA / EHB
Heraceram veneering ceramics (Heraceram), Mamelon dentine, 20 g - MD1 /MD2 / MD3
Heraceram veneering ceramics (Heraceram), Value, 20 g - VL1 / VL2
Heraceram veneering ceramics (Heraceram), Gingiva, 20 g - G5 / G6
Heraceram zirkonia 750 , First-Touch-Set - Glaze universal, 20gm
Heraceram zirkonia 750 , Matrix-Set - OT Blue
Shade guides liquid, Modelling liquid ML - ML, 25ml
Shade guides liquid, Stain fluid - SLU, 2ml