C-EYE DEVICE
This device brings crosslinking to a whole new spectrum. As the device can operate on patients with the traditional supine position, it is also able to operate as slit lamp mounted device.
The truly portable device operates via rechargeable batteries that are regulated for energy output. Conquering the keratoconus disease, the device's UV light is adjusted in order to compensate for corneal curvature and accordingly, it will make sure that the treatment is always reaching the goal depth no matter where the targeted corneal area is. Multiple treatment plans and settings are readily available om the device with durations ranging from under 10 to over 30 minutes per Eye. C-eye can be used for all the conventional treatments as well as treating infections with guidance on what and when to use for each required result.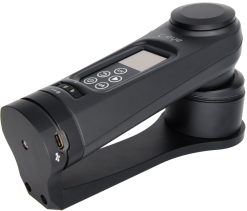 C-EYE SURGICAL KIT
In order to operate the device, a CE marked C-Eye procedure kit must be used. This kit includes a sterile cap to assure surgical sterility, a speculum and one Riboflavin syringe of 0.14% concentration along with an activation code. The high Riboflavin concentration allows for both Epi-on and Epi-off surgical approaches ensuring high and rapid stromal saturation without the need of extra material or approaches.