LENS CARE
MENICARE PURE
MeniCare Pure is a multi-purpose lens solution made of natural components (Polylysine, Vitamin C glucoside and Hyaluronic acid), making it safer than other solutions, with high and wide antimicrobial activity. It is used to clean, disinfect (effective after 30 minutes), remove protein, rinse and store lenses while hydrating both the lenses and the eyes.
The packaging is safe and convenient with an easy-to-handle bottle, one touch cap with automatic opening and closing, for better sterility and integrity.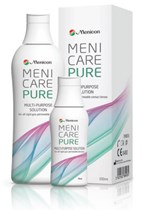 MENICARE PLUS
MeniCare Plus is an all-in-one, multi-purpose lens solution for Gas Permeable (GP) contact lenses. It is used to clean, disinfect, remove protein, rinse and store contact lenses. Moreover, MeniCare Plus ensures an even distribution of the tear film over the lens surface due to its increased wettability with Hypromellose.
MeniCare Plus can also be used as a rinsing solution prior to lens insertion, making the lens feel clean, smooth and comfortable.
MeniCare Plus comes in 3 different packages: MeniCare Plus 250 mL, MeniCare Plus 125 mL and MeniCare Plus 50 mL, GP lens case, one Progent dose A/B, Progent vial, starter kit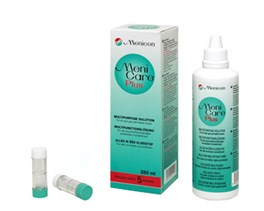 PROGENT
Menicon Progent is a weekly protein remover, disinfectant and intensive cleaner compatible with all Gas Permeable (GP) contact lenses. The process is done by soaking the lenses in the Progent mixture for just 30 minutes, which ensures strong and rapid disinfection against all organisms likely to contaminate lenses (such as bacteria, mold, yeast, viruses, Acanthamoeba trophozoites and cysts) in five minutes.
Progent is comprised of two sterile compounds: sodium hypochlorite (PROGENT A), and potassium bromide (PROGENT B). When mixed together, these two components produce an oxidation-reduction reaction that disinfects and removes protein and debris from the lenses.
Menicon Progent comes in 2 packages: the first package includes five Menicon Progent treatments (five doses each of Progent A & B × one Progent vial), the second package includes one dose each of Progent A & B, one Progent vial, one × 50 mL MeniCare Plus, one GP lens case, starter kit.