SPECIALTY CONTACT LENSES
DUETTE HD
THE PERFECT CONTACT LENS FOR EXCEPTIONAL VISION!
DUETTE is a great hybrid lens for every patient who wants the best visual acuity. 
Reach for Duette HD for your patients who compromise their vision in soft lenses:
Low cyl (<.75D) and high cyl (>1.50D) patients 
Patients with corneal cylinder greater than spherical refractive error 
Oblique astigmats 
Hyperopic astigmats 
Patients with high plus or minus prescriptions, with or without astigmatism 
Emerging astigmatic presbyopes (up to +1.00D add) 
Any patient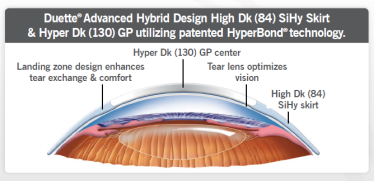 CLEARKONE
CLEARKONE IS A REVOLUTIONARY HYBRID CONTACT LENS FOR IRREGULAR CORNEAS! 

ClearKone features a patented design that is optimized to vault the predominant irregularities of corneal ectasias, thus, effectively restoring vision to a vast majority of irregular cornea patients, without compromising comfort or eye health.

The streamlined fitting process makes the ClearKone lens one of the simplest irregular cornea products to fit, while delivering the best possible vision and comfort for the broadest spectrum of patients.
ULTRAHEALTH
EXPERIENCE THE COMPLETE SOLUTION FOR IRREGULAR CORNEAS WITH THE MOST ADVANCED HYBRID LENS! 
Ultrahealth is a hybrid lens with a silicone-hydrogel skirt in a High Dk Hybrid Lens for Irregular Corneas & Keratoconus.

UltraHealth delivers excellent vision and comfort for distorted corneas: The "rigid" (GP) material optimizes vision while the soft skirt centers the lens over the cornea, providing enhanced stability and clarity.
UltraHealth is made with materials that allow very high oxygen transmission. The lens design also promotes tear circulation throughout the day, which delivers even more oxygen to the eye.
DUETTE PROGRESSIVE
DUETTE® PROGRESSIVE, A MULTIFOCAL LENS... JUST JUST MAKES SENSE!
Duette® Progressive is the newest hybrid contact lens for your presbyopes of all age even those with astigmatism.
The intuitive fitting approach delivers exceptional vision and all-day comfort for happy presbyopic patients who become loyal advocates for your practice.